[finished.]



Event period
SUN
MON
TUE
WED
THU
FRI
SAT
1
2
3
4
5
6
7
8
9
10
11
12
13
14
15
16
17
18
19
20
21
22
23
24
25
26
27
28
29
30
31
INFORMATION

basics information
Date
From Wednesday, May 1, 2019 to Monday, September 30
  Weekday  :17:00-23:00 (last order 21:00)
Saturdays, Sundays, and holidays: 12:00-22:00 (last order 20:00)
Place
Tokyo the fourth floor of Sankei Building terasse (1-7-2, Otemachi, Chiyoda-ku, Tokyo)
Rate
Of 5500 yen per person (tax-included) ※Two hours system
Contact
070-5545-9045 (dial for exclusive use of reservation)
Homepage
https://otemachi-terrasse.com
Beer garden Terrasse of the heavens
Wind goes through "beer garden Terrasse (terasse) of the heavens" while being in urban building group in terrace space in Tokyo the fourth floor of Sankei Building, and good open feeling of view is space that there is.
As for the concept, aesthetic Asian meal which beauty was conscious of, photogenic space, dishes, drink are most suitable for date and girls-only gathering
"Aesthetic Asian meal" in concept beer garden course (all six articles) [two hours all-you-can-drink] 5,500 yen (tax-included) for adult
Evening party of "aesthetic Asian meal" drink meya bite eya Asia
Set menu which received non-daily life and novelty, surge to healthy intention, and aimed at the healthy beauty.
[course contents]
▼Hors d'oeuvres
・*harukan of rice flour
We arrange Vietnamese *harukan. Than four that is famous in Vietnamese neighborhood
It was got close, and toiu noodles wound that around clothes, and they improved brand-new feeling.
It is prawns and cuttlefish, two kinds of curry taste.
・Assorted dim sum
Light meal of Chinese food. It is two kinds of jade dumpling and mini-steamed meat bun.
It is sultry with bamboo steamer one by one and puts up.
・yamuunsen
Thai salad. Meaning of yamu "mixes" "tossing", unsen "spring rain."
Salad is unexpectedly hot, and chili pepper works for sour-sweetness of appetizing nampla.
Fragrance and peanut of celery and coriander are accents, too.
・Beef and salad of avocado
Salad which is ethnic of beef + avocado + coriander.
Acidity, mint of neat lime is decisive factor.
▼Main plate
・The strongest roast chicken which shut in taste for six hours
We fully cut down garlic in circle chicken and grill with oven.
We just provide on table.
Cut into pieces; and with spice.
We can taste chest, white meat, wing, part of peach at a time.
We can arrange how to eat with four sources and banh mi.
▼"Banh mi" French bread
"Banh mi" is Vietnamese sandwich.
There are a lot of stands of banh mi in home Vietnam.
It is popular light meal to be able to buy anywhere. As Vietnam was colony of France,
Food culture fused. We use nuoc mam (gyohishio) for French bread with rice flour.
▼Spice
・Namasu
・Red onion
・Coriander
・Mint
・Deep-fried green onion
・Peanut
▼Source
・Silacharr
There are few sharp tastes, and acidity is mild, too. Midway near taste of ketchup and Tabasco.
・Dragon fruit (entering thiaseed)
Acidity is weak and is refreshing sweetness. We include vitamin B complex in richness.
・Black vinegar
・Sweet Chile
▼Meal
・*nikuhan of brown rice
It is national staple got close to with Taiwanese stand. There is confidence on stew pig rose which let fragrance exotic indulgently of Goko powder <Wushan fen> work. We use brown rice (money breathe) for meal and hold down nutritive value well.
▼Dessert
・Tapioca soybean milk apricot kernel
To annin tofu which is refreshing while leaving taste of soybean milk. We can enjoy texture with aloe, tapioca.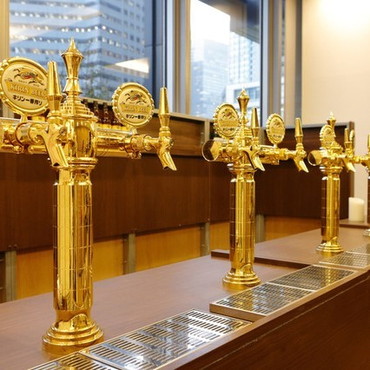 ▼Special free drink
Slightly rare craft beer and drink prepare. We take an unusual time.
<TOKYO Sumida River bluing> Golden yell
It is shining golden yell beer to be able to enjoy gorgeous body and refreshing aftertaste.
<TOKYO Sumida River bluing> Peer yell
Peer yell that we developed in pursuit of taste that there was in Japanese taste based on yell beer swallowed up in British pub.
<TOKYO Sumida River bluing> cherry rouge
Taste that sour-sweetness of cherry and soft lingering sound harmonized with. A certain dignity gorgeous red enhances special feeling.
Tea Mojito
Flavor tea
▼Free drink
It is drink which you can enjoy to all customers.
Asahi Super Dry
Sour drinks
Highball
Barrel wine (red, white)
Barrel sparkling
Sangria
Soft drink
Non-alcoholic cocktail
※Course rate includes all the drinks. (two hours all-you-can-drink)
[recommended point!]
・Good location of Otemachi Station direct connection one minute
・All-you-can-drink menu which is rare in neighborhood
Craft beer, barrel sparkling are served without limit for two hours to include
・The view of big city
We can enjoy gorgeous night view from Tokyo Sankei Building 4F
・We carry out on Ladies' Day on every Monday
We provide only woman for 4,500 yen (tax-included) of 1,000 yen off
☆In addition, in the course to be simple, and to be able to enjoy beer garden!

・July-only weekdays 21:00 ... [with 2H all-you-can-drink] light meal course <three articles>
・Light meal course <three articles> Saturdays, Sundays, and holidays-limited in July [with 2H all-you-can-drink]
The details are https://r.gnavi.co.jp/jtvcdyd70000/ to Gurunavi site