[finished.]

Kioicho garden terrace event
Event period
SUN
MON
TUE
WED
THU
FRI
SAT
1
2
3
4
5
6
7
8
9
10
11
12
13
14
15
16
17
18
19
20
21
22
23
24
25
26
27
28
29
30
31
INFORMATION

basics information

KIOI SUMMER 2019
Summer Fun from Tokyo Garden Terrace KIOICHO
In Tokyo garden terrace Kioicho "summer in Japan."


KIOI BEER BAR Kioi beer bar
It is KIOI STYLE with domestic craft beer. How about Japanese style beer bar which is modern in Kioicho leaving appearance of Edo? "Beer one cup exchange ticket" which is available at eating and drinking store in Kioi terrace is presented in every day using KIOI BEER BAR by the first 70 people!
※It becomes the end as soon as it disappears. ※Contents of drink, the offer date and time vary according to stores.
※There is store which the use excludes partly. ※KIOI BEER BAR may be called off by weather.
Period
From Thursday, August 1 to 31st Saturday
Time
16:00-21:30 (FOOD L.O. 20:30, DRINK L.O. 21:00)
Venue
Kioi terrace 1F "open space of flower"
4F "open space of water" (hold in two places)
The dishes supervision: Toru Komori
We play an active part in the media as expert of Japanese food. We appear on "strong man of dishes" and deal with the dishes supervision of drama. In "the prominent skill person commendation system", we receive commendation as "contemporary master craftsman".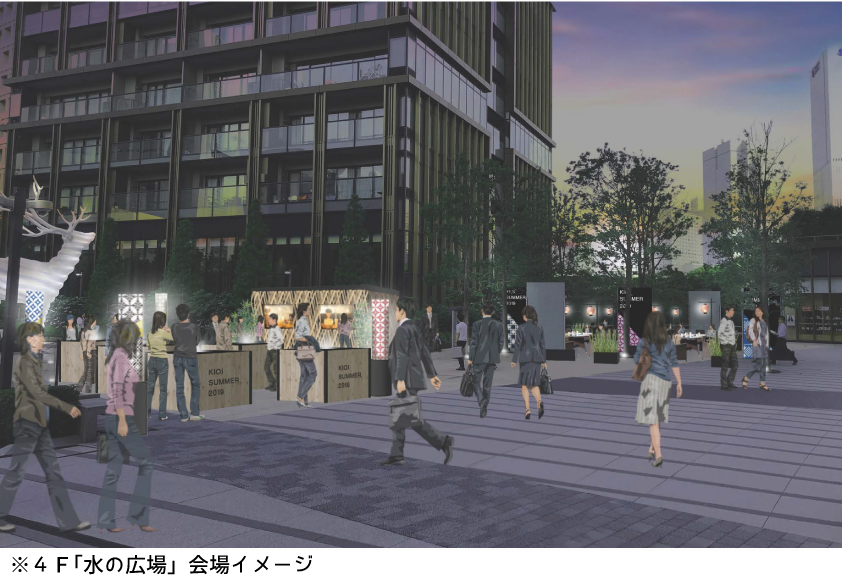 Other events
KIOI KIDS
The youth Go Festival
Until kindergarten - primary, middle and high schools life, it is warm welcome to people aiming at four steps from people mentioning Go for the first time! Let's enjoy Go together.
Date
Thursday, August 15
Part 9:30-11:45 (reception desk 8:50 ...) of the morning
Part 13:30-15:45 (reception desk 12:50 ...) of the afternoon
Venue
Kioi conference
Object
Kindergarten - high school student
(possible participation from the first person to person aiming at four steps)
Entrance fee
1,000 yen (tax-included) ※Payment on that day
Contact
03-3288-8729 (weekdays 9:30-17:30)
Nihon Ki-in Division
How to apply
Prior application system
Apply from the Nihon Ki-in HP.
https://www.nihonkiin.or.jp/event/area/other/in_2019_1.html

KIOI CONCERT
Concert by Tokyo art University graduate
Date
Saturday, August 24
The first 11:00 ...
The second 13:30 ...
Venue
Kioi tower 1F office entrance
Player
Emi Araki (soprano saxophone)
Ako Kawashima (small pipe)
Yokoyama beauty A (tenor saxophone)
Miki Hiraga (baritone saxophone)
Program
W.A. Than Mozart/flute quartet music first D major the first movement
G.Introduction and variation by the subject of Pierne/folk song style rondo
A.Milonga of piasora/angel
Yasuhide Ito/Ryukyu fantasy

Mathematics seminar "mathematics × game"
Mystery to hide behind behind world will collecting game

There are various feudal retainer games in the world. Both setting and rules are various. But the first move, certain victory of the second mover is decided, and free, creative idea not to remain for mere feudal retainer game hides in strategy in many cases. By this seminar, we discover mathematics to hide behind behind feudal retainer game while making trial and error with all of you and experience the world of dazzling fun mathematics game. In addition, we introduce applied example, connection to those information-intensive society.
Date
8/27 Tuesday 18:30-20:30 (reception desk 18:00 ...)
Venue
Kioi conference
Seminar room A B
Object
People who are interested in mathematics 20 years or older
Entrance fee
1,000 yen (tax-included)
Lecturer
Representative of Sachiko Nakajima /steAm, Inc., follow your MUSE joint representative (musician, mathematics researcher, STEAMS educator
Application
Prior application system (we apply from Tuesday, August 13 and start)
Method
It is application http://www.tgt-kioicho.jp/ from HP
※It is finished as soon as it becomes capacity