[finished.]



Entertainment of "sound and light"
Event period
SUN
MON
TUE
WED
THU
FRI
SAT
1
2
3
4
5
6
7
8
9
10
11
12
13
14
15
16
17
18
19
20
21
22
23
24
25
26
27
28
29
30
INFORMATION

basics information
Date
2019/11/14-2020/2/24
※Starlight tree to 12/25
Venue
Tokyo midtown Hibiya others
(1-1-2, Yuurakucho, Chiyoda-ku)
Access
Subway "Hibiya Station" station direct connection
   "Yurakucho Station" 4-minute walk
   "Ginza Station" 5-minute walk
JR "Yurakucho Station" 5-minute walk
Sponsorship
Starlight tree: Tokyo midtown Hibiya
          The area management

Area illuminations: The Hibiya area management
            Tokyo midtown Hibiya
            Hibiya chanter
Website
https://www.hibiya.tokyo-midtown.com/jp/event/4805/

"" To color moment when you are important whenever we blink our eyes
HIBIYA Magic Time Illumination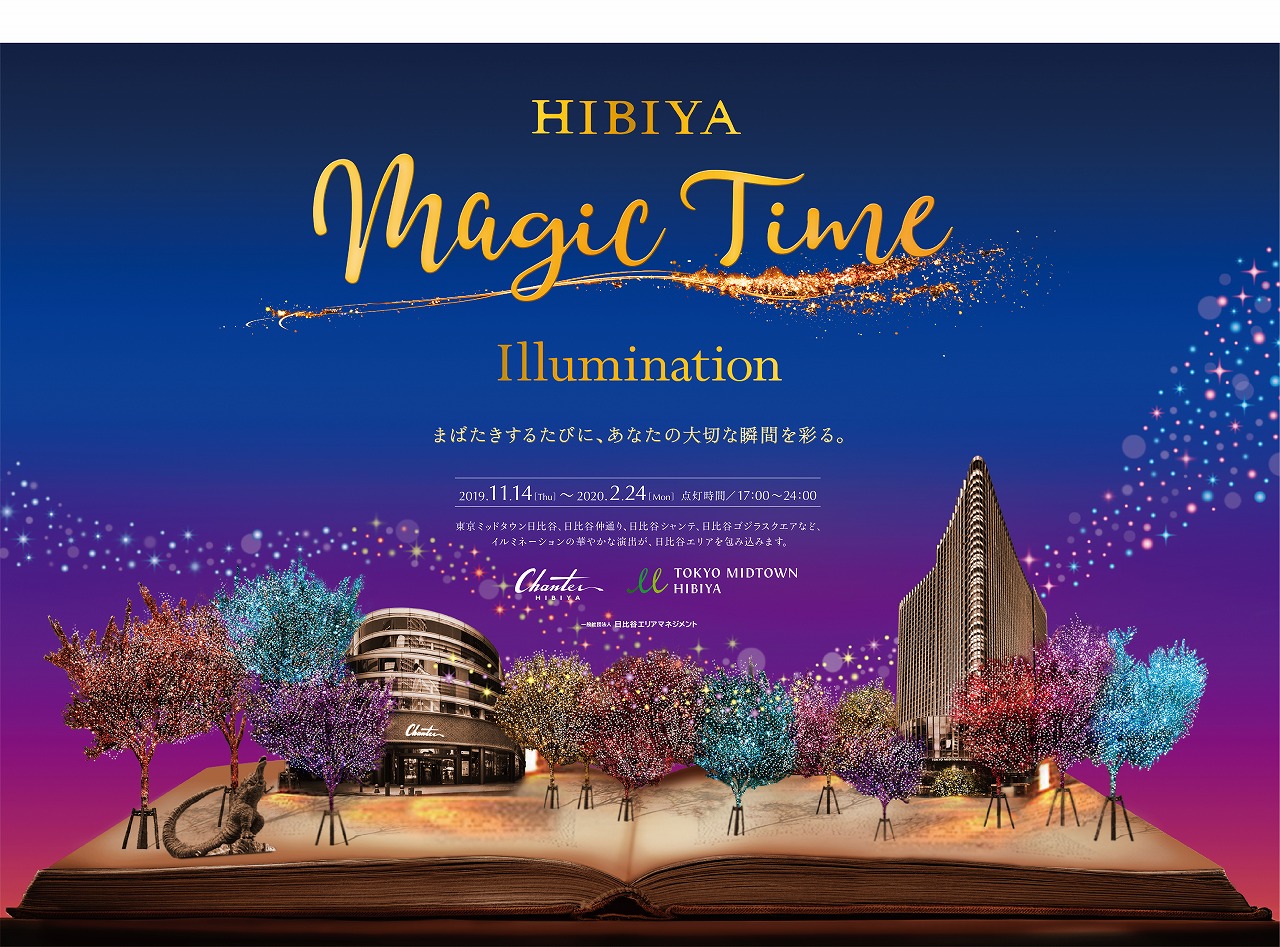 Whenever "HIBIYA Magic Time Illumination" blinks its eyes ", we color moment when you are important. "Is presented in Tokyo midtown Hibiya, according to Hibiya relation, Hibiya chanter, the whole Hibiya area of Hibiya Godzilla square with Hibiya area management, TOHO Ltd. by concept.
Symbol tree "Starlight Tree 2019" of about 12m in height
"Starlight tree 2019" expressing outer space in tree appears in Hibiya step open space of Tokyo midtown Hibiya.
Propeller displays LED with device turning around using the latest digital technology 3D Jolo graphic display under the theme of tree "to enter in", and to be able to enjoy this year. We can enjoy direction full of entertainment with high-definition picture.
※To 12/25
As for about 400,000 pitches of light, color changes every four seasons! "Area illuminations"
We are based on white and are illuminations of device which color turns into by time. LED is increased in quantity from last year and becomes more beautiful this year.
In addition, color of illuminations changes to music in "Magic Time" once in 15 minutes. We color moment when you are important whenever we blink our eyes "by looking around from Godzilla square entrance. It is entertainment illuminations to color "time.
The whole area becomes "Magic Time color" as special direction at time of the last stage and can enjoy color such as magic to be seen only during dozens of minutes.
1st Stage from Thursday, November 14 to Sunday, December 8
Opening Blue white × light blue
2nd Stage from Monday, December 9 to Wednesday, December 25
Mellow Christmas red × gold
3rd Stage from Thursday, December 26 to Friday, January 31
Celebration Gold gold × yellow
4th Stage from Saturday, February 1 to Sunday, February 16
Blooming Valentine white × pink
Final Stage from Monday, February 17 to February 24 (the moon holiday)
Magic Time color