[finished.]



From "we tie" to "it grows".
"WHITE KITTE" is renewed
INFORMATION

basics information
Date
From Wednesday, November 20, 2019 to Wednesday, December 25
Venue
JP tower commercial facilities "KITTE" (2-7-2, Marunouchi, Chiyoda-ku, Tokyo)
Access
About 1 minute on foot from JR "Tokyo Sta." (the Marunouchi south exit)
Subway Marunouchi Line "Tokyo Sta." direct connection
Sponsorship
Japan Post Co., Ltd.
Plan, administration
JP building management
Homepage
http://jptower-kitte.jp/
WHITE KITTE

Heart, Christmas to grow.
"WHITE KITTE" of this year carries out the first large renewal since the opening of business.
For 2020 when Japan attracts attention from all over the world,
"Quality of Japan and newness." that KITTE valued so far the cause of no facility concept,
With all the wish to want more customers to spend spiritually rich happy time,
"WHITE KITTE" is reborn this winter.

That, in KITTE, feelings to manufacturing of Japan and Japanese good old thing are new until now
We came towards place that "connected" visited meeting point with customer.
In order to conclude encounter of one one which we tied with customer since the opening of business newly, and to make a stronger one,
Through new "WHITE KITTE", we let you deepen to "it grows" because "you tie".

Thought of KITTE to "link" Japan, person and person, heart and heart to the world for 2020 to reach soon,
We express with new Christmas tree using Japanese folkcraft "polygonum filiforme" edited by one one, hand of craftsman.
We are going to hold various events to be able to spend wonderful time during period.

With "polygonum filiforme" which we settled in as symbol of present which "linked" people, heart and heart to people for a long time,
You let modern technology fuse, and please expect in "WHITE KITTE" which is reborn.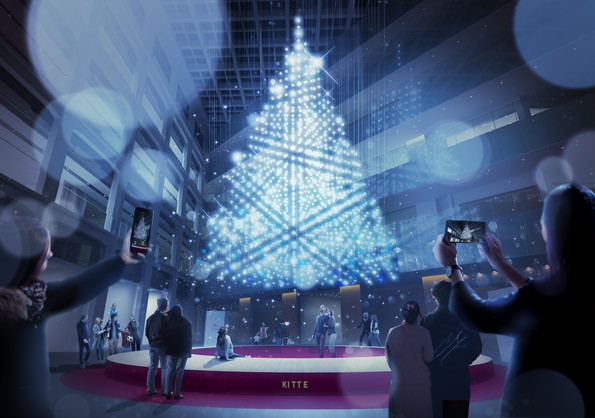 The details about event to official homepage