Akihabara, Kanda Event [Chiyoda City Tourism Association information page] - - Edo Tokyo light exhibition produced by Japan light Expo
[finished.]



Event period
SUN
MON
TUE
WED
THU
FRI
SAT
1
2
3
4
5
6
7
8
9
10
11
12
13
14
15
16
17
18
19
20
21
22
23
24
25
26
27
28
29
30
31
INFORMATION

basics information
Date
From Saturday, December 7, 2019 to Sunday, February 9, 2020
From Monday to Thursday 10:00-19:00 (last entrance 18:30)
Gold ... day 10:00-20:00 (last entrance 19:30)
1/1-1/3 and holiday 10:00-20:00 (last entrance 19:30)
Place
Kanda Myojin cultural exchange building the first floor of the basement "EDOCCO STUDIO"
(2-16-2, Sotokanda, Chiyoda-ku, Tokyo)
Access
From JR "Ochanomizu Station" a 5-minute walk
From JR "Akihabara Station" a 7-minute walk
From subway "Ochanomizu Station" a 5-minute walk
   From "Suehirocho Station" a 5-minute walk
Sponsorship
Chiyoda center cultural exchange promotion mechanism, CoCoRo
Plan production, direction
Wonderful office (Japanese light Expo)
Reference
info@edotokyoakari.com
Homepage
http://edotokyoakari.com
Edo Tokyo light exhibition produced by Japan light Expo
Light "of" all over Japan is sent to the world by Kanda Myojin! Experience-based exhibition of the first holding
Light of "analog × digital" begins to spin new story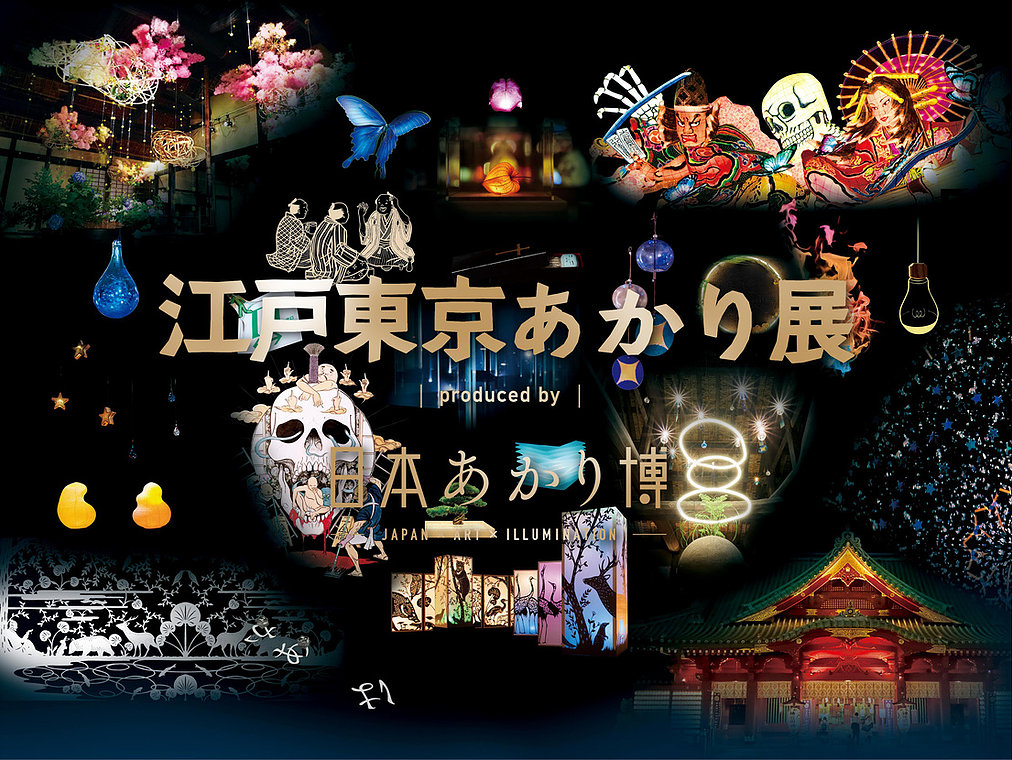 At this event becoming held for the first time, creators of all over Japan gather. Five genres such as "art" "festival" "design" "craftsman" "technology" become one through "light" and create the new world in place of historical Kanda Myojin.
It is "pro-art attraction" that put attraction factor together for art display, and the biggest characteristic is point that we can experience that there is not for conventional art exhibition. Not only appreciate art work, but also to performer and art work stop by to pose, and story unfolds.
"Dramatic impact" changes "ending of story" and "work which you can see" by choice of guest. Furthermore, the staff full of drama characteristics invite guest to the world of attraction as storyteller.
In addition, it is one that it is characterized by being able to experience where analog three-dimensional work agrees commencing with "Aomori Nebuta" to pose, and "analog is interactive" of the guests. We challenge few approach for existing art exhibition to "fuse by digital technology in analog art work".

What is <Japan light Expo?>
Art exhibition of light proud of scale largest in the country. Art team which performed setup of the Tokyo where what we dealt with mobilized 310,000 totals's greatest light art exhibition of Japan. Special group which is lighted, and produces × art which performs the first light art display in held the the U.K.'s biggest Japan expo, and plays an active part in London at home and abroad last year.

The details such as time schedules of event are ⇒ http://edotokyoakari.com to formal HP
30s Man

2019-12-23 07:17:57

It was very fun.
It led to experience to conflict with essence from modern times and fusion of classic culture.

We can enjoy from adult to child.

50s Woman

2020-01-26 10:30:16

Careful setting
As it was not crowded on the night of Friday, we were able to admire one slowly and carefully each.
I see, when it was such a thing, there were many things and was interesting.
What we performed was good. Very comfortable shikatta (^^)