Event period
SUN
MON
TUE
WED
THU
FRI
SAT
1
2
3
4
5
6
7
8
9
10
11
12
13
14
15
16
17
18
19
20
21
22
23
24
25
26
27
28
29
30
31
INFORMATION

basics information
Date
From Friday, July 17, 2020 to Monday, August 31
※There is picture work substitute in the first half year, the latter period during session
10:00-20:00 ※Until 30 minutes before admission closing
Venue
Otemachi Mitsui hall (1-2-1, Otemachi, Chiyoda-ku, Tokyo Otemachi One 3F)
Viewing charges
The public: 2,000 yen (advance sale/group 1,800 yen) on that day
High school, university student: 1,500 yen (advance sale/group 1,300 yen) on that day
The small, junior high student: 1,000 yen (advance sale/group 900 yen) on that day
※More than 20 groups
※Non-school children and; people 70 years or older, person with a disability (as for the person of attendance to one principle) are free of charge
Sponsorship

Wisteria are, Fuji Television Network, BS wisteria, Nippon Broadcasting System others

Website
http://www.faaj.art
New sense art exhibition to weave tradition and advanced ga
Hokusai/Hiroshige/sects/ko* approaching with huge picture
World ... of ... ukiyoe print and gold-leaf folding screen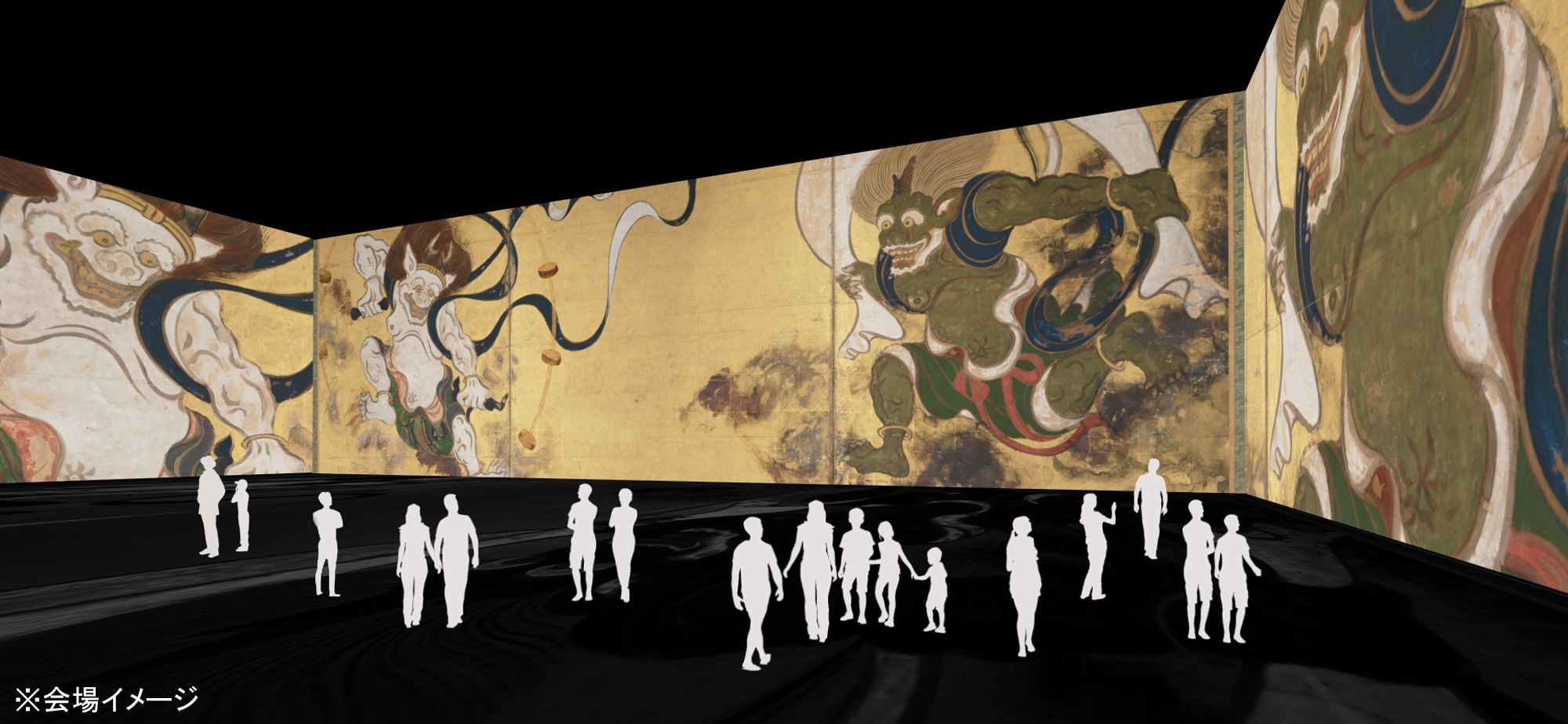 Project "ART-JAPANESQUE DIGITAL WORLD" which assumed that we connected Japanese traditional art which FUJI Co., Ltd. are of sponsorship presented with new charm discovery by digital technology and picture direction mission. It is held in "Otemachi Mitsui hall" in "Otemachi One" (Otemachi one) which digital art exhibition "world ... of Hokusai, Hiroshige, sects, ko* - ukiyoe print and gold-leaf folding screen approaching with huge picture" to be carried out for the first opens in this May!
The summer of 2020 when Japan is exposed to hot eyes from all over the world. Historic art work of the Edo era revives as super high-definition digital art from Momoyama era. One action releases the best masterpiece including "figure of god of the wind god of thunder screen" of Sotatsu Tawaraya and "figure of chrysanthemum screen" of Kourin Ogata with huge screen in gold-leaf folding screen with ukiyoe print "*takesanjurokukei" of Hokusai Katsushika and "fifty-three stages of the Tokaido" of Hiroshige Utagawa.
The biggest characteristic of this exhibition is huge picture space of the best part to project with advanced digital technology as we reproduce to each fiber of the original Japanese paper on three dynamic wide 45m screen and high brightness 4K projector eight. Ukiyoe print which was reproduced precisely so that engraver, the skill of artisan of dye-rubbing worker were highlighted.
Gold-leaf folding screen reappears to small gold and silver leaves, gold dust, minute difference in material and expression including gold paint including gold leaf. In addition, we spread and display detail of work with picture only by super high-definition digital image and, in area of wide 17m screen, focus on charm of work with plain commentary (Japanese narration/English sentence subtitles).
Art exhibition of new sense by dramatic direction that had collaboration of art and music. Please enjoy art experience across the space-time hearing until breathing of ancient people.