[finished.]



Tokyo midtown Hibiya is closed temporarily for the time being.
Event period
SUN
MON
TUE
WED
THU
FRI
SAT
1
2
3
4
5
6
7
8
9
10
11
12
13
14
15
16
17
18
19
20
21
22
23
24
25
26
27
28
29
30
31
INFORMATION

basics information
Date
From Friday, March 27, 2020 to April 19 Monday (holiday)
Venue
Tokyo midtown Hibiya (

1-1-2, Yuurakucho, Chiyoda-ku

)
Hibiya step open space, atrium, according to Hibiya relation
Access
Tokyo Metro "Hibiya Station" direct connection
Tokyo Metro "Yurakucho Station" direct connection (a 4-minute walk)
Tokyo Metro "Ginza Station" direct connection (a 5-minute walk)
JR "Yurakucho Station" 5-minute walk
Reference
TEL 03-5157-1251 (11:00-21:00)
Homepage
https://www.hibiya.tokyo-midtown.com/hibiya-blossom/

HIBIYA BLOSSOM 2020
It circulates through "we celebrate spring" in concept in Tokyo midtown Hibiya and appreciates coming of spring to come and holds event to celebrate the spring arrival!
We prepare for various plans when we can taste a time when we are elegant on music stage played under the theme of garden and spring of flower for a limited time that coming of spring is usually felt in different viewpoints in this year to reach the second anniversary. As there is present plan March 29 to reach the second anniversary on that day; without passing over.
[held event]
HIBIYA BLOSSOM GARDEN
Garden to enjoy coming of spring with colorful flower blooming in spring appears in step open space. You make an excursion in flowers and smell and observe flower well and by touching flower in viewpoint different from usual times, we feel and can enjoy coming of spring. It is spring open space of all which you can spend with family and co-worker and friend slightly elegantly leisurely alone again.
Date
From Friday, March 27, 2020 to Sunday, April 19
11:00-21:00
※Rainy weather stormy weather cancellation
※We are lighted up by night
Place
Hibiya step open space
Sponsorship
Tokyo midtown Hibiya, the Hibiya area management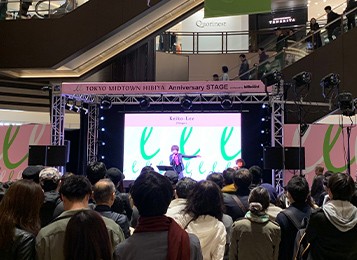 HIBIYA BLOSSOM ANNIVERSARY STAGE [cancellation]
It is show case of music to enjoy an elegant time in concept in "we celebrate spring" like spring.

Schedule
<opera>
Friday, March 27, 2020
Cooperation: Tokyo two sittings society
<classical music>
Saturday, March 28, 2020
Cooperation: Pacific music festival Sapporo
<gospel>
Sunday, March 29, 2020
Appearance: Anointed mass choir (that in Ted trout choir)
Time
14:00 -/17:00 ...
※Friday, March 27 is ... at -/18:00 at 12:30
Place
Atrium
Rate
Free of charge
Sponsorship
Tokyo midtown Hibiya