Event period
SUN
MON
TUE
WED
THU
FRI
SAT
1
2
3
4
5
6
7
8
9
10
11
12
13
14
15
16
17
18
19
20
21
22
23
24
25
26
27
28
29
30
INFORMATION

basics information
Date
From Friday, September 18, 2020 to Sunday, January 17, 2021
11:00-17:00 (as for the admission until 16:30)
Closed days
On Monday ※We are opened on 9/21 Monday (holiday), 11/23 Monday (holiday), 1/11 Monday (holiday)
12/31, 1/1 are closed
Place
Mitsuo Aida Museum (Marunouchi 3-5-1 Tokyo International Forum the first floor of the basement)
Access
JR "Yurakucho Station" International Forum Exit, a 3-minute walk
It connects with Keiyo Line in concourse under the ground on the first floor in the JR "Tokyo Sta." Marunouchi south exit, a 5-minute walk (Exit 4)
We contact in concourse under the ground on the first floor in Yurakucho Line "Yurakucho Station" 3-minute walk (Exit D5)
Hibiya Line "Hibiya Station" 5-minute walk, "Ginza Station" 5-minute walk
Chiyoda Line "Nijubashimae Station" 5-minute walk, "Hibiya Station" 7-minute walk
Marunouchi Line "Tokyo Sta." 5-minute walk, "Ginza Station" 5-minute walk
Ginza Line "Ginza Station" 7-minute walk, "Kyobashi Station" 7-minute walk
Toei Mita Line "Hibiya Station" 5-minute walk
Admission charges
Public, university student 800 yen/middle and high school student 500 yen/primary schoolchild 200 yen (non-school children for free)/70 years or older 600 yen
※As for impaired person and the person of attendance, free of charge (the presentation of notebook)
※There is group discount
※Museum shop is no charge for admission
Sponsorship
Mitsuo Aida Museum
Reference
Mitsuo Aida Museum telephone: 03-6212-3200 (main)
Homepage
http://www.mitsuo.co.jp/
From the 76th plan exhibition "now here"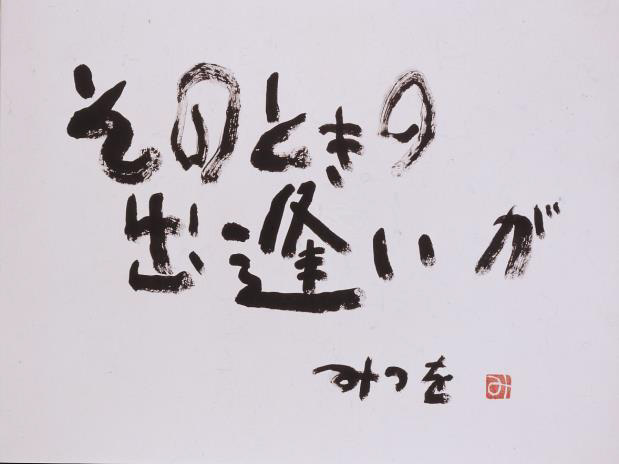 How did Mitsuo Aida get over crisis "of" life?
Even if a series of crises solves the mitsuono life, it is not exaggeration. Trouble of suffering and life on writing work flocks in sequence. It was always very urgent. Then how would you come through? There is one word here.
On day of "rain in the rain on day of wind in wind"
On "rainy day, we just accept rain totally and live with rain in the rain. On day of wind, the person writes to say, we live with wind in wind.
And it is that "this is always positive though we are ordinary and lives positively".
(from Daiyamondosha which it "had good to live")
How do you live in the times of corona? There may be thing becoming some hint for mitsuono words.