Event period
SUN
MON
TUE
WED
THU
FRI
SAT
1
2
3
4
5
6
7
8
9
10
11
12
13
14
15
16
17
18
19
20
21
22
23
24
25
26
27
28
29
30
INFORMATION

basics information
Period
Thursday, November 5, 2020 - Friday, December 25
Venue
Marunouchi area
(circle building, the Shin Marunouchi Building, Marunouchi OAZO, Marunouchi brick square others)
Sponsorship
Mitsubishi Estate Co., Ltd.
Website
https://www.marunouchi.com/
Marunouchi Bright Christmas 2020
... LOVE & WISHES
50 days to reach national singer MISIA, and to send "love and desired" to the future from Marunouchi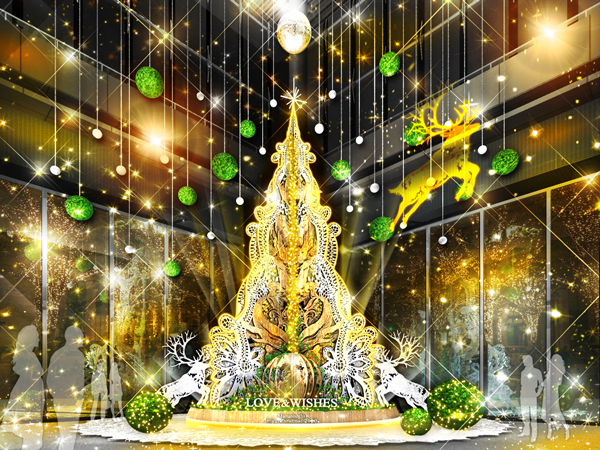 Circle building :We love the "Love Earth" earth
Various animals and plants live and are Christmas tree which thought of thanks to the earth which is irreplaceable straight lifespring was loaded with. We express thought to love the earth in the whole tree, and various animals and plants are studded with by design of paper-cutting including squirrel and reindeer. Wood adopting as main material of tree is going to conjugate as environmental resources after this event.

[place] Circle the first floor of the building circle cube
     (2-4-1, Marunouchi, Chiyoda-ku)
[viewing time] 6:00-24:00
Writing show using musical piece of MISIA is carried out during 17:30-21:00 for about five minutes every 20 minutes during period of from Thursday, November 5 to Friday, December 25.
Christmas campaign
During period, meals tax-included 3,000 yen or more hold digital stamp rally which lottery and WEB coupon and original wall paper which wonderful present hits in bought can get at target store of Marunouchi, Yurakucho area.

■LOVE & WISHES present lottery
We carry out lottery where wonderful premium without loser hits in Marunouchi, Yurakucho area which had you show meals tax-included 3,000 yen or more and receipt done shopping at target store. In addition, we just participate in lottery and can donate to "radio charity myujikkuson" which Nippon Broadcasting System runs.
<participation method>
We have you do meal and shopping in Marunouchi, Yurakucho area
1.We show tax-included 3,000 yen or more receipts to the staff of lottery counter. (only as for the receipt, possible adding up for the day)
2.We have you participate in lottery and present luxurious premium to elected candidate.
※Every day one-off per person
[the date and time] From Friday, November 20 to 23rd Monday (holiday), from Friday, November 27 to 29th Sunday, from Friday, December 4 to 6th Sunday
     Every day 12:00-20:00 (only on Sundays and holidays until 19:00)
[place] Circle the first floor of the building circle cube, the third floor of the Shin Marunouchi Building atrium, the first floor of Marunouchi OAZO, international the first floor of the building ※Plan

■LOVE & WISHES digital stamp rally
When it circulates through tree decoration of each venue more than three places and downloads digital stamp from two-dimensional cord each during period, we present "Marunouchi Bright Christmas 2020 - LOVE & WISHES ..." original wall paper. Furthermore, we present WEB coupon for 1,000 yen to be usable in Marunouchi, Yurakucho area to the first 5,000 people.
<participation method>
1.We access two-dimensional cord installed in each venue, and digital stamp is downloaded by your terminal.
2.When we go round venues more than three places and download three or more digital stamps, we present WEB coupon for 1,000 yen to be usable to "Marunouchi Bright Christmas 2020 - LOVE & WISHES ..." original wall paper and the first 5,000 people to all the participants at object store of Marunouchi, Yurakucho area. ※Coupon becomes the end as soon as it reaches the upper limit.
[the date and time] From Thursday, November 5 to Friday, December 25
[place] The tree decoration outskirts of each venue