We started distribution of "Astro Boy" manhole card on Thursday, November 19!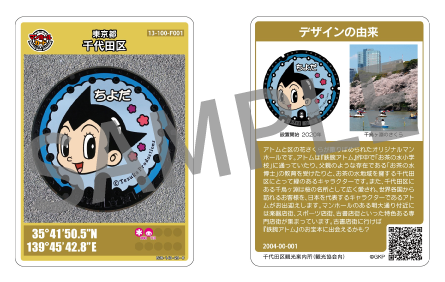 We started distribution of manhole card extra edition "Astro Boy" that postponed distribution under the influence of new coronavirus.
Distribution is detailed
Distribution place
Chiyoda-ku tourist information center (the Chiyoda City Tourism Association)
1-6-17, Kudanminami, Chiyoda-ku
Distribution time
10:00-18:00
※We are closed for fourth Sunday and New Year holidays.


It is closing on Sunday, November 22. Please be careful.

Reference
Inquiry about contents of card
Chiyoda-ku business and industry Tourism Division (only on weekdays)
03-5211-3650

Inquiry about distribution place
Chiyoda City Tourism Association (only on weekdays)
03-3556-0391
[instructions]
・Manhole card hands one piece to one.
・Distribution by mail cannot support.

■Mobile stamp rally is open, too!
Design manhole mobile stamp rally which we canceled in conjunction with distribution of card is reopened.
Period From Thursday, November 19, 2020 to Sunday, December 20
It is this about stamp rally ※Only as for the smartphone
Please see this about design manhole.