For prevention of new coronavirus "COVID-19" infection spread, distribution of manhole card became postponement.
I'm very sorry, but we would appreciate your understanding to all of you who had you look forward to.
Inquiry Tokyo industrial labor bureau Tourism Division 03-5320-4676
We distribute "Astro Boy" manhole card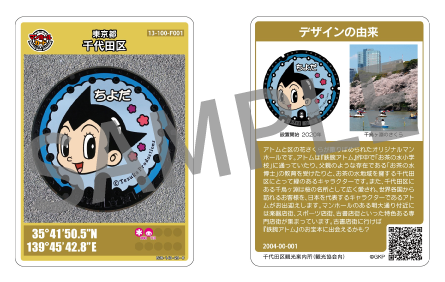 We distribute manhole card of atom from design manhole installed in ward from March 9.
The details are as follows.
Distribution place
Distribution place
Chiyoda-ku tourist information center (the Chiyoda City Tourism Association)
1-6-17, Kudanminami, Chiyoda-ku
Distribution time
From Monday, March 9, 2020
10:00-18:00
※Please be careful for closing on fourth Sunday.
In addition, we are closed, and 3/15 will

be opened to 3/22

instead.
Distribution became postponement.
Reference
Chiyoda-ku business and industry Tourism Division
03-5211-3650
[instructions]
・Manhole card hands one piece to one.
・Distribution by mail cannot support.

It is this about design manhole
Please see this about stamp rally.