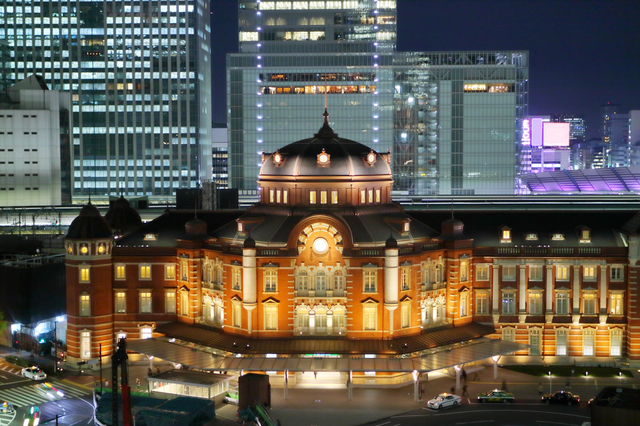 [country-designated important cultural property] 1914 (Taisho 3)
Tokyo Sta. Marunouchi bookstore is located from Imperial Palace to the east in the front of according to popular name royal visit to be prolonged straight. We were completed in start of construction, 1914 in 1908. Kingo Tatsuno who was broken with "Tatsuno staunchness" from toughness of design designed design in architects of Meiji, the Taisho era period.
3 stories above the ground that we turned in the north and south occasion and postponed both wings for with tall and stout building for extension about 335m for a long time to the north and south of central ridge. Architecture becomes so-called Tatsuno-style free classic style.
Tokyo Sta. Marunouchi bookstore is central facility of station becoming the starting point of our country railway network and is valuable building symbolizing capital Tokyo built based on street improvement plan of Meiji.
It is said at the time of with the largest building among buildings mainly composed of bricks that high-value as work becoming the collected studies of Kingo Tatsuno who led Japanese building world.
The royalty dedicated to Central Exit at first and arranged doorway of round dome roof for the north and south, and the Marunouchi south exit took until prewar days, and the Marunouchi north exit was only for getting off. We were repaired to 2 stories by turmoil of war, and dome of the north and south turned into square shape, too, but was restored in figure at the time of construction in 2012. In addition, station square is maintained newly, too.
INFORMATION

basics information
Address

1-9-1, Marunouchi, Chiyoda-ku, Tokyo
The

Access

Tokyo Sta. yard