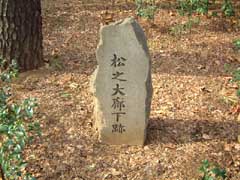 The main enclosure trace left hand, the present were becoming grove, and there was L-shape corridor which linked quiet Japanese-styled study made of plain wood (meeting place with general) to main enclosure large hall. It is "corridor of pine" where here is famous for "Chushingura".

Blade wound case that Takumi Asano head long quadrature of Akaho feudal lord is about to cut in kichiryojoyakaigio of the respectable family people first on the list on (1701) March 14 in 1701 is place that got up.

Kai Ueno was slightly injured, but Imperial carpenter head became seppuku on the day as blade fault inside the palace was taboo. Afterwards, Akaho feudal clan became confiscation, and vassals became lordless samurai.

On the other hand, Kai Ueno did not have the blame, and masterless samurai that revival of house was rejected measured revenge of my late you to head of Kuranosuke Oishi and we made a raid on Kira's house on December 15 in 1702 (1702) and accomplished long-cherished hope.

We are informed by about 19 meters, the north corridor of pine which was the beginning of this case to corridor and reason, the west that are the second longest in main enclosure as about 31 meters, width were about 5 meters. Because painting with "pine" as the subject was described in painting on a folding screen and wall, it was called "large corridor of pine".
INFORMATION

basics information
The

Address

East Gardens of the Imperial Palace

Access

Tokyo Metro Otemachi Station