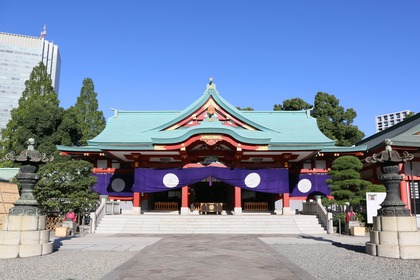 [the main hall of Hie-jinja Shrine] 
 It is called Sanno, and enshrined deity is daisansakushin. Edo enshrines Sanno shrine, and it is said that (1478) tadendo* further did kansei in Edo-jo Castle from Kawagoe in 1478. (1590) Ieyasu entered a fortress in Edo-jo Castle in 1590, and we moved to Momijiyama in Edo-jo Castle afterwards, but general Hidetada moved to the ground (Hayabusacho) of King Motoyama out of the castle for site of a castle expansion for two generations. As we were destroyed by fire in the case of Edo big fire of (1657) in 1657, we did utsushiza in the (1659) present location in 1659.
 In Hie-jinja Shrine, veneration was thick as genius locus God of family to inherit the shogunate, and called Sanno festival along with Kanda Shinto shrine with the world feast day, and biennial, God good luck festival of conduct entered Edo-jo Castle, and general made an imperial inspection.
 The main hall of Sanno Inari Shrine of the precincts is considered to be building in 1659 and is valuable building in the Edo early days.
INFORMATION

basics information
Address

2-10-5, Nagata-cho

Phone number

03-3581-2471

Access

Kokkaigijidomae Station Exit 5 5-minute walk
Tameike-Sanno Station Exit 7 3-minute walk