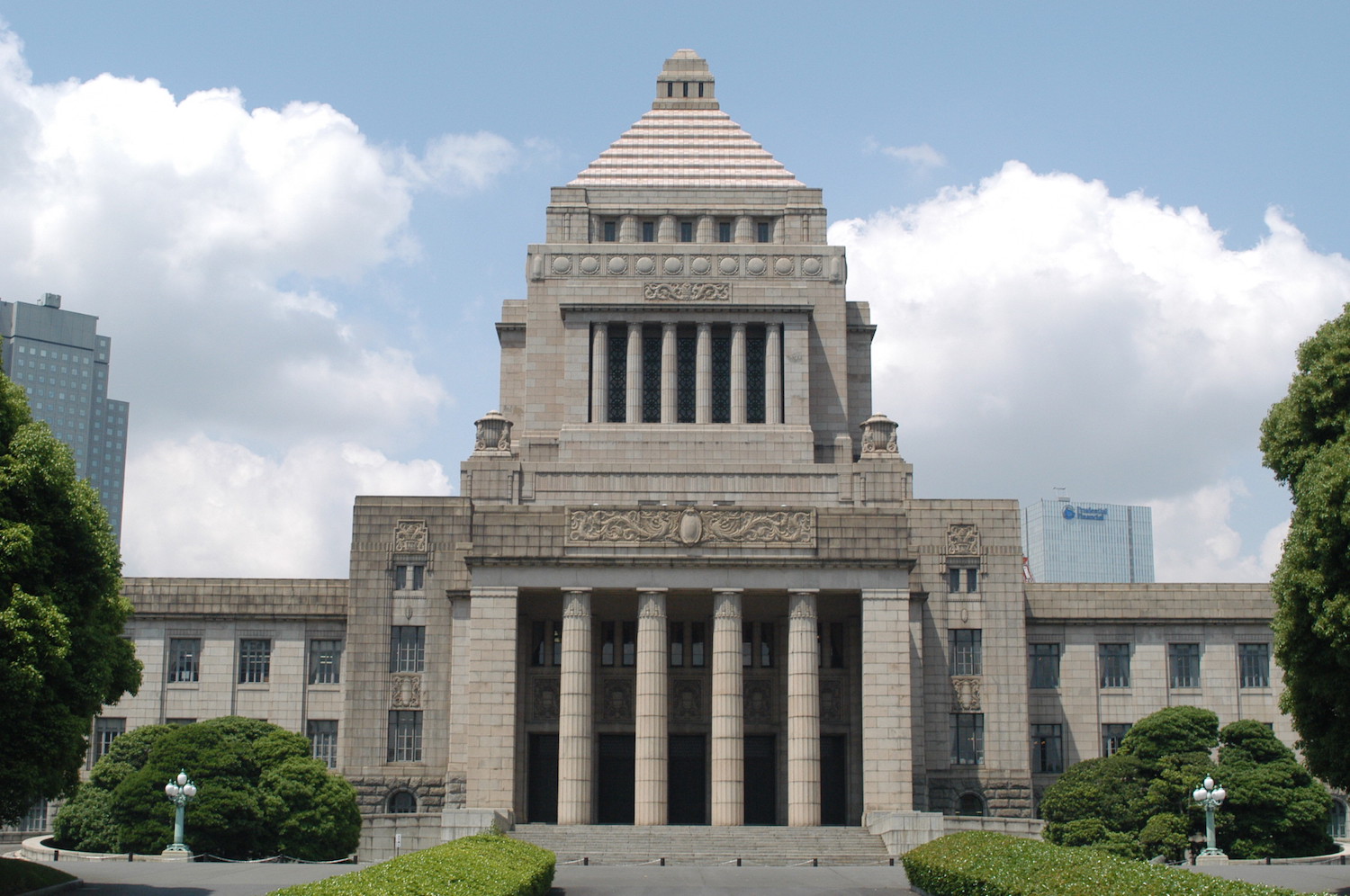 Discrimination from distant place is high, and the Diet building of stepped roof becomes landmark of administrative district. Plan of assembly hall dated back until 1886, but, after temporary assembly hall construction of several degrees, authentic assembly hall started work in 1920 and was completed in 1936.
In addition, ginkgo row of trees in front of assembly hall becomes one of famous spot of colored leaves and forms cityscape that landmark and contrast of colored leaves to symbolize politics of Japan are fantastic.

The 1936 (Showa 11) Ministry of Finance temporariness Diet architecture station design
1936 when what we finished after many twists and turns while there was plan passed through more than 50 years from the early period of Meiji era. While design chooses the best plan by competition once, many modifications are made, and whom can designer not identify with? It is domestic state famous building, and, as for the thing due to hand of first-class craftsmen, it is revealed all by domestic lumber, but it is unknown, and design motifs are mysterious buildings that there is many, too.
INFORMATION

basics information
Address

1-7, Nagata-cho
From

Access

Nagatacho Station Exit 1 a 4-minute walk
From Kokkaigijidomae Station a 4-minute walk
From Sakuradamon Station Exit 1 a 10-minute walk
About the Diet visit
・The House of Representatives
Open day: From Monday to Friday: 8:00-17:00
Saturdays, Sundays, and holidays: 9:30, 10:30, 11:30, 13:00, 14:00, 15:00
URL: http://www.shugiin.go.jp/internet/index.nsf/html/index.htm
Guidance in English is possible. For more details → From this

・The House of Councilors
Open day :From Monday to Friday: 9:00, 10:00, 11:00, 12:00, 13:00, 14:00, 15:00, 16:00
(on Saturday and Sunday, holiday, we take a rest for New Year holidays)
URL: http://www.sangiin.go.jp/japanese/taiken/bochou/kengaku.html