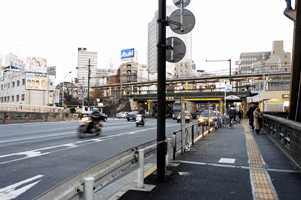 It appears in the Kanda River, and there is to about 550m of Koishikawa Bridge of upper reaches.
It is about (1881) in 1881 that bridge was built over Edo-jo Castle Sotobori in the north side of Iidacho. Bridge was named "Iidabashi" for the name of town. We are improved in concrete bridge in (1929) on iron bridge in (1908) in 1929 for 41 years after it was repaired in (1890) in 1890 and continue up to the present day afterwards.
We construct on (1929) April 10 in 1929, and current bridge is 18.0m in length, concrete bridge of 27.2m in width.
 It is about (1966) in 1966 that the name of the bridge was adopted as name of a street. The east side incorporated a part of 2, Fujimi-machi into 3, Iidabashi, the west and, after Mejiro-dori St. where 2, Iidacho ran through downtown then, became 4, Iidabashi.
INFORMATION

basics information
Address

3, Iidabashi, Chiyoda-ku - Shinjuku-ku shrine ratio town
The

Access

Iidabashi Station east exit, Exit A1, Exit A3 are immediate