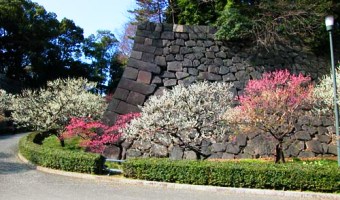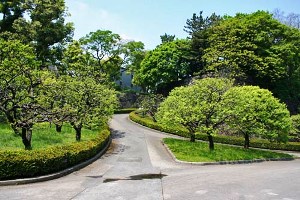 We enter and pass through the Hirakawa gate of East Gardens of the Imperial Palace between Hirakawa moat and Tenjin moats and are slope appearing in front of the Imperial Household Agency Archives and Mausolea Department.
(1478) tadendo* is dedicated to Michizane Sugawara in 1478 and is said to be when there is this name as we planted several hundred plum trees.
In "higashi*shishiko, imperial palace" "is made to play, is kosetsu shift than honorific title of a Japanese god state Oda original table in castle……We play mokusuuta*kai of plum on Kosaka, and, in kyuritsuryosha korearuo go*yu basare do*, go*yu basare has the honor of being dateoki kitaruto command with no sum to remain in it in poet yuhe Tenjin Corporation……It is written, it is touched koyo nito command that there is this in in knob Kitanomaru of building and says with imai te Bairin Hill that there are trace ume tree these of right both companies a great number of in and fall and has the honor of being.
When Tokugawa entered Edo, there was doshinko* here, but it hit main enclosure building, and it was moved to Hirakawacho of Kojimachi, and it was in flat river Tenman-gu Shrine in now.
In addition, when there was Sanno honorific title of a Japanese god Shinto shrine in Umebayashi Hill, it is said to be, and it is now in Sanno Hie-jinja Shrine in Nagatacho.
There is big Rhus succedanea on the stone wall of Umebayashi Hill and can enjoy wonderful contrast of red yellow, green in velvet shank and pine and autumn in the back.
There is plum approximately 50 now over the main enclosure area from under Umebayashi Hill. Most of these ume trees seem to be things planted in 1967. Kind of early blooming begins to bloom after winter solstice of December and reaches in full bloom in the middle of February in average year.
INFORMATION

basics information
Address

Chiyoda 1 East Gardens of the Imperial Palace
From

Access

Otemachi Station Exit C10 a 5-minute walk (enter a kindergarten from Ote-mon Gate)
From Takebashi Station 1a exit a 5-minute walk (enter a kindergarten from kitakitsukyomon)