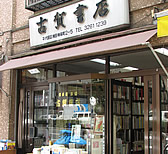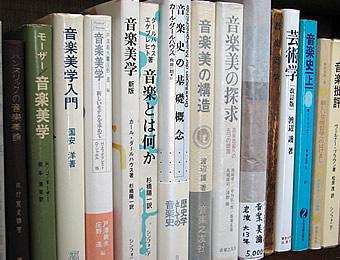 It is early days of Showa that founding became store specializing in music at the beginning of the Taisho era. Thereafter we continued being specialized in music consistently. Unlike lock and subculture pro-specialty store increasing to Jinbocho recently to handle flat, fashion or movie in conjunction with it, this shop just brought classical music to the mainstream in music one.
 As technical book and monograph, document of musician are prepared let alone score and biography abundantly if they relate to classical music, it can nod in visitor visiting here that there are many people who are actually engaged in classical music including student and music commentator of music technical school.

 Near the entrance in slim shop, books about music including jazz and tango, chanson and the Celts music except classical music of the world line up and watch unintentionally. The depths of shop are filled up with book that most are classical music-related. We begin in music theory and biography, essay of great composer such as Bach and Debussy, Mozart, and history of music to read classic history lines. Thing which generally becomes unavailable such as "history of music" of theory book and the whole tone score publishing company not to readily sell like "search of the music beauty" of Ongaku no tomo sha corp. at new book bookstore either is put.
INFORMATION

basics information
Address

2-5, Kandajinbocho

Phone number

03-3261-1239

Business hours

10:30-18:00
Sundays and holidays are holidays
From

Access

Jimbocho Station Exit A6 a 2-minute walk