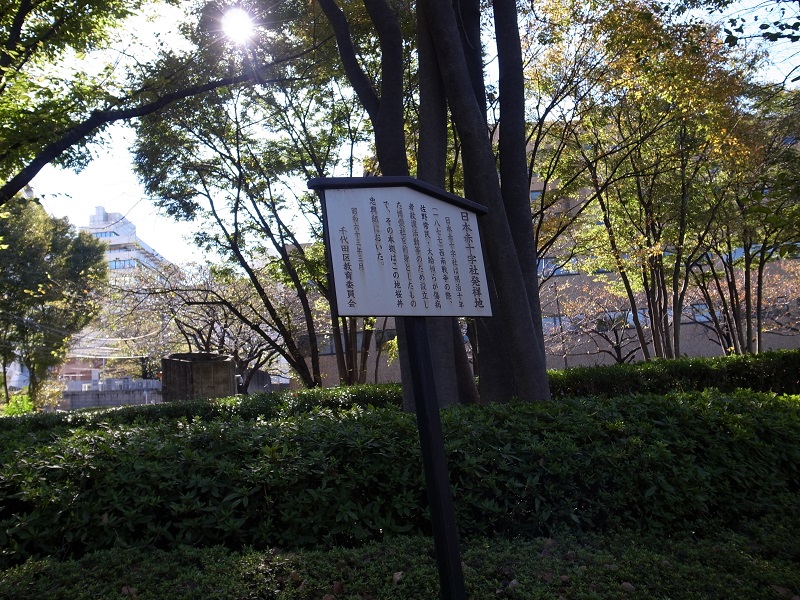 In the case of the (1877) Southwestern Rebellion, the Japanese Red Cross Society assumed philanthropism company that they established for the disabled relief activities by Wataru Ogiyu both senate houses Diet members with Tsunetami Sano forerunner in 1877. The base was placed in this ground Tadako, Sakurai residence.
 By the Southwestern Rebellion, it caused a large number of casualties by intense battle between the Imperial army and the Satsuma militaries. In this miserable situation, Sano, two people of daikyu keenly realize war by relief group, the need of the disabled relief at the time of dispute then, and is going to make relief group like the Red Cross performed in Europe; ritsu tatamonodesu.
 However, both persons applied for establishment of relief group "philanthropism company" at first for the government, and mashiga, this wish were not accepted. It is thing by way of thinking "rescuing without discrimination of ally and enemy" of philanthropism company not having been understood.
 We offered subjugation governor-general Taruhitoshinno Arisugawanomiya prospectus of philanthropism company establishment directly, and activity of philanthropism company was admitted afterwards by wise decision of the Imperial prince.
INFORMATION

basics information
Address

2, Fujimi, Chiyoda-ku
From the

Access

Iidabashi Station west exit a 5-minute walk